Most of the major countries in world have their own standards to control pollution from vehicular emissions. In Bharat these standards are known as Bharat Stage Emission Standards or BSES in short.
In 2017, Bharat Stage 4 was implemented throughout the country. In an important step taken by Bharatiya government, it has been decided to implement the Bharat Stage 6 next instead of going through Stage 5 standards.
BSES rule are designed to curb the amount of harmful gases emitted from vehicle engines to reduce the air pollution. In this article we will provide information about vehicle "Pollution Under Control" (PUC) requirements as defined in Indian Motor Vehicles Act and BSES.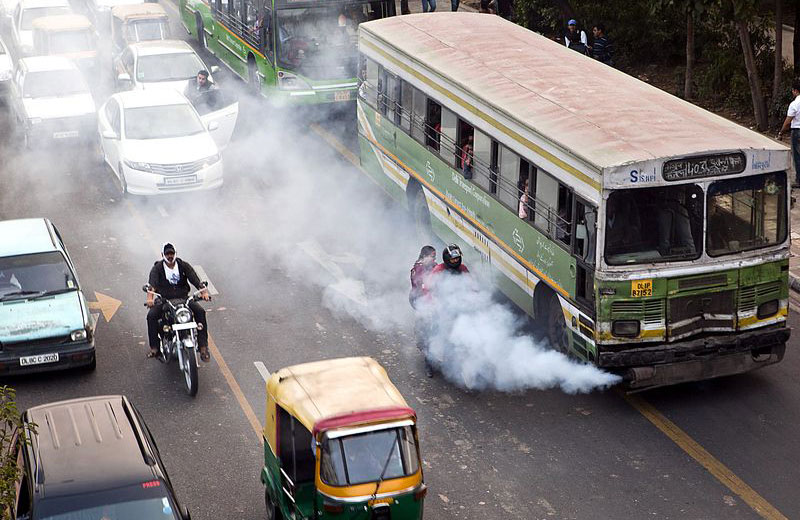 Relevant Acts and Rules
---
The rules related to vehicle pollution are defined in the Central Motor Vehicle Act 1989. Here is a brief description of the relevant clauses of the said Act.
Section 115 (7) - For the new vehicle, pollution test is not required for 1 year, after that pollution under control test must be conducted every 6 months.
Section 116 - Police Sub-Inspector or Vehicle Inspector can demand proof of Pollution Under Control. In case of doubt, order can be re-examined.
Section 190 (2) - Penalties for violation of vehicle pollution rules.
Procedure for Vehicle Pollution Under Control Test
---
Pollution test can be done at any test station approved by central government, which are available at many petrol pumps. If emissions are within limits as prescribed in the law then Pollution Under Control certificate will be issued for the vehicle.
The Pollution Under Control certificate is valid for 6 months. According to the amount of pollution emitted by the vehicle, this period can be reduced. Information about that is available on the Ministry of Road Transport and Highways website. Re-test of vehicle pollution emissions is mandatory once validity of the PUC certificate is over.
Pollution Under Control certificate is valid across all states and union territories of Bharat. You don't have to keep multiple PUCs while traveling across various states. In 2018 some rules has been changed for pollution emissions from luxury vehicles, information about those changes is available on the central website.
Penalty for flouting Pollution Rules
---
According to Section 190 (2) of the Central Motor Vehicle Act, 1989, if PUC certificate is not presented when asked by a policeman (head constable or senior officer) then vehicle driver (owner) may be fined for minimum ₹1,000 (for first offense). Fine can go up to ₹20,000 for repeat offenses.
According to Insurance Regulatory and Development Authority of India (IRDAI) it is necessary to have a PUC certificate to get auto insurance.
Vehicle registration can be canceled if they are older than a certain age, as it was done recently with commercial vehicles older than 15 years in Delhi.
There are also some emission related rules that apply at the time of vehicle manufacturing. Vehicle owner don't have to worry about them as automaker adheres to such rules.
Pollution Control: Our Duty
---
It is expected that after 2020 when Bharat Stage 6 Emission rules comes in force, vehicle pollution related rules will change at fast pace. To keep our city and country pollution free, it is our duty to ensure that our vehicle complies with all rules and emissions are always under control.